BookBub Ads is a way for advertisers — authors, publishers, agents, and other publishing professionals — to reach millions of power readers via dedicated ad space in BookBub's daily emails.
You can run a BookBub Ads campaign for any book at any time. When you create a campaign, you decide which readers you want to target, how much you're willing to pay for impressions or clicks from those readers, how much you want to spend overall, and the length of your campaign. When a reader opens an email, BookBub serves the ad of the highest bidder targeting that reader at that moment.
Step 1: Log in to your dashboard
You can always find your dashboard at partners.bookbub.com — or in the footer of any BookBub page.
Step 2: Create a new ad
Click Ads in the top navigation, and then click the Create New Ad button.
Next, choose the book you'll be promoting. Note: If you plan to upload your own ad image, this step isn't necessary, but it'll let you filter campaigns on your Ads dashboard.
Next, you can choose whether to upload your own creative (a 300 x 250-pixel PNG, JPG, or JPEG image) or build new creative. If you upload a very large image, the size will be reduced, which can negatively affect the quality of the image, so please aim to upload at the 300×250 size. When uploading a book cover to the creative builder, use a cover image that is 115 pixels wide to ensure the best possible image quality. If you selected a book in the step above but would like to use a different cover image — or if you didn't select a book above — simply click Select file to upload a new image.
Step 3: Set the click-through link(s)
Next, finalize the click-through links — this is where readers will be directed when they click on your ad.
If you entered a book in Step 2, BookBub will automatically pull in the book's retailer links. Your ad will automatically target readers in the relevant regions and link them to their preferred retailer in order to maximize the ad's conversions to sale. You can edit or add additional retailer links if necessary.
If you did not enter a book in Step 2, you will need to enter a URL. If you enter the URL for a region-specific product page on a specific retailer site, your ad will automatically target readers in that region who prefer that retailer.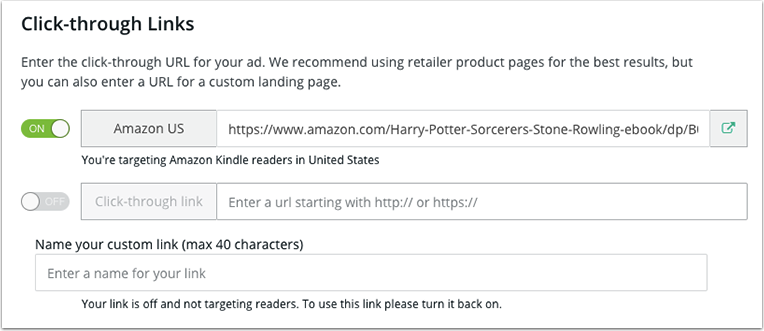 If you enter a non-retailer-specific URL, you'll need to set your own region and retailer targeting. For example, if you want to target Amazon Kindle readers in all available regions, you would need to select Amazon for each region.
Step 4: Set your audience targeting
You can choose to target your ad based on any combination of author interest and book categories.
Use author targeting to reach readers who have expressed interest in specific authors. You can select as many or as few authors as you'd like. If you include multiple authors in your targeting, any reader who is a fan of one of those authors is eligible to see your ad. Keep an eye on the audience dial on the right, which will update to indicate your estimated maximum daily reach based on your targeting.
Use category targeting to reach all readers interested in particular book categories and genres.
Combining author and category targeting will limit your audience to readers who have expressed interest in both one of your selected authors and one of your selected categories. This is a particularly good strategy if you are targeting the fans of authors who write in multiple genres.
Tip: If ROI is your primary goal, we recommend using author targeting to reach a very specific audience of readers, increase click-through rates, and maximize your budget. If exposure and scale are your objectives, try using category targeting instead.
Step 5: Set a schedule and budget
Set a schedule: You can either run your ad continuously or over a fixed period of time. If you run your ad continuously, it will serve until you manually turn it off. If you specify a fixed period of time, you can customize the pacing of your campaign.
Set your pacing (fixed dates only): Pacing your budget evenly will spread your spend out across the entire length of your campaign, while fulfilling your budget as quickly as possible means you'll win all the impressions for which you're the highest bidder regardless of your end date. This means your entire budget may be spent before your end date.
Set a budget: Enter the amount you are willing to spend in total (if running a campaign with fixed dates) or per day (if running your ad continuously). The minimum total budget for a BookBub Ads campaign with fixed dates is $1. For a campaign with continuous ads, the minimum daily budget is also $1.
Step 6: Set your bid
Next, determine which bidding strategy you'd like to use: cost-per-click (CPC) or cost-per-thousand-impressions (CPM). With both bidding options, you're bidding against other advertisers on the platform who are trying to reach the same readers that you've targeted with your ad.
CPC bidding: Choose how much you're willing to pay for each click you receive on your ad. CPC bidding is a lower-risk strategy for advertisers than CPM bidding. Instead of paying for impressions that might turn into clicks, you only pay for actual clicks. For that reason, CPC can be preferable to advertisers seeking a positive return on investment. (The downside is that if your CPC ad has a low click-through rate, it might not serve.)
CPM bidding: Choose how much you're willing to pay per 1,000 impressions, where one impression is one opened email. You will win impressions for the audience you're targeting if you are the highest bidder for that audience (your ad's click-through rate won't affect the number impressions you win). For that reason, CPM bidding can be preferable to advertisers looking to increase a book's exposure to a specific audience (e.g. as part of a branding exercise).
How much you bid per click or per thousand impressions is entirely up to you. The higher you bid, the more clicks (CPC) or impressions (CPM) you are likely to win. To provide you with some guidance, when you set your bid, we will show you a range of what other advertisers are bidding on average at that time:
Step 7: Name your ad
Lastly, name your ad. The ad name is visible only to you in your dashboard. An example naming convention could be: [Book Title] – [Retailer] – [Date].
Once you're finished, you can save the ad as a draft or click Continue to enter your payment information and launch or schedule your ad. BookBub Ads update in near real time, so you can start an ad at any time. If you have any questions about BookBub Ads billing, please refer to these FAQs.
Step 8: Monitor and edit your campaign
Click Ads in the top navigation of your dashboard to access ad reporting. Impression and click counts update hourly.
You can also edit your campaign whenever you'd like, or create multiple ads to simultaneously target different audiences. BookBub's auction ensures that advertisers never bid against themselves.
Tip: If you see that you are not getting any impressions, your bid is probably too low for the segment you're targeting. Increase your bid or change your targeting to get more impressions.
Do you have any questions about running BookBub Ads? Let us know in the comments below!
Want to share this post? Here are ready-made tweets:
Click to tweet: Tutorial: How to Use @BookBub Ads to Promote Any Book – http://bit.ly/1qP5UFi by @DianaUrban #bookmarketing #pubtip
Click to tweet: #Authors, bookmark this post for when you get access to @BookBub Ads – http://bit.ly/1qP5UFi It's a step-by-step tutorial! #writetip